Why Serbia / Articles from people that visited Serbia
As locals, we could tell you countless reasons why you should visit Serbia and Belgrade, but we might be a little biased, so we asked a few people to write about their impressions of our country. Read on to find out what they have to say about why you should visit Serbia.
Discover the 15 Best places in Serbia to visit according to The Crazy Tourist here.
Why I love Serbia (and Dana 🙂 )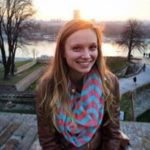 Serbia is a beautiful and underrated country. No matter which city or village you visit, you are treated with the greatest hospitality. The Serbian people are, in my opinion, what make the trip. They are kind, but also loud, boisterous and fun. They'll make sure you have the best time. And the food is a must. From cevapi (spiced meat), to punjena pleskavica (like a cheese and ham stuff hamburger) and sarma, you will leave the country feeling very full and satisfied. The cities are full of fascinating history and the countrysides full of amazing landscapes and scenery. And everywhere you go there are stories to be heard. I believe that Dana is the best person to show you this unique and amazing country. She is knowledgable about Serbia's history, about it's people, and she is eager to show it to others. I loved my tour of Belgrade with Dana. She told me stories I had never heard, and patiently answered all of my questions. A trip to Serbia in the capable hands of Dana is a trip never to forget.
Alyssa Schrag, Los Angeles
Top Reasons to visit Serbia- Belgrade
It was a family trip to Serbia, We had enjoyed Serbia for so many reasons. In Serbia you can see every thing required for a good vacation. Starting with Nature, Good Weather. But the most important thing is the GOOD HOSPITALITY.
Also if you are interested in shopping you will find a shop or kiosk in almost every corner but the most spectacular place for shopping is "Knez Mahailova", Which is located at the city center.
If you want to see the old lifestyle of Serbia visit "Zemun". It is a very interesting place which takes you back in time.
A lot to do in Serbia. It was fabulous five days. and didn't regret this trip at all.
Final note, to enjoy more I recommend you to meet Ms. Dana from the Tourist Agency to make your trip a perfect one.
Don't hesitate visiting Serbia which combines history with modernist. But the most important thing is to see the SENSE OF HOSPITALITY which the Serbian people got.
Shaikha Nasser, QATAR